Whitney Taylor is a character on Twisted. She is the daughter of Jack Taylor. Whitney is outgoing and she falls in love with Lacey. But in the spring finale, it is revealed Jack and her are both using the Desai's.
Whitney is portrayed by Brianne Howey. 
Biography
Edit
Whitney's father is Jack Taylor. Whitney is quite wild and a bit out there. She is a lesbian and has taken a liking to Lacey Porter.
Appearances
Edit
Relationships
Edit
Whitney and her father are close. They both are using the Desai's, possibly for the money.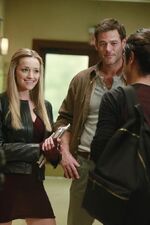 She and Danny knew each other as young kids. She calls Danny her future step-brother in Season 1 episode 17.
Lacey is her first friend at school, she invites Lacey to NYC with her to go clubbing in season 1 episode 17. After leaving the city on the walk home she kisses Lacey. Afterwards, they don't talk anymore because the mother tells the truth about Whitney, which leaves Lacey angry.