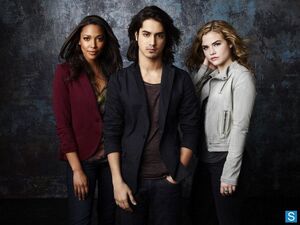 Now that we've all seen the first episode, it's "okay" to talk about it. lol I thought they did a great job showing
Danny
as a possible hero
or
villain, and I loved the duality of his character - half creepy, half charming. I think
Twisted
has the potential to be a great series, it's already apparent how Danny's past casts a sort of shadow over all the other main characters in one way or another. There's a little bit of a mean-girls vibe in there as well, but with the redemption factor of Danny's return bringing
Lacey
&
Jo
back together as friends. All-in-all, I appreciate having to wonder whether the writers are being very obvious, or very clever - is the truth right in our faces, or is that only what we're
supposed
to think is really going on?
---
Comment below with your take on the series premiere, and don't forget to join us here weekly for LIVE CHAT during the show!
---
Will Twisted "make it" - ie. not get canceled?
---
---
Ad blocker interference detected!
Wikia is a free-to-use site that makes money from advertising. We have a modified experience for viewers using ad blockers

Wikia is not accessible if you've made further modifications. Remove the custom ad blocker rule(s) and the page will load as expected.