Tyler Lewis

Character

Biographical Information
Status:
Alive
Age:
17
Home:
Green Grove
Occupation:
Student
Physical Description
Gender:
Male
Hair color:
Blonde
Eye color:
Green/Blue
Relationships
Relatives:
Allies:
Show Information
Portrayed by:
Chris Zylka
First appearance:
"We Need To Talk About Danny"
Relevant Pages

GALLERY
Tyler is a minor character on Twisted. He is Phoebe Daly's older brother. He appeared in We Need To Talk About Danny, where he hosted his birthday party in the cemetery. He takes an interest in Jo and is currently directing a documentary about Danny's return to Green Grove. Tyler is portrayed by Chris Zylka . 
Appearances
Edit
Speculations
Edit
Some fans believe that he may have used Jo to get closer to Danny and then developed actual feelings for her.
He was behind the Jump Rope Prank and the Mask of Danny at Danny's Party as well as pretending to be an ally for Danny in order to get material for his documentary.
He went on a date with Jo to trick her into an interview, but appeared to have developed real feelings for her.
He seems to have a complicated relationship with his younger sister Phoebe.
When he sees the Danny/Lacey making out video, he laughs and gleefully watches The Video. 
In Out With The In-Crowd he confesses to Jo that he's "crazy" about her and eventually has sex with her, resulting in him taking her virginity and being her "first everything" (her first kiss, make out, time and possible boyfriend). This is a decision that Jo regrets later. 
Relationships
Edit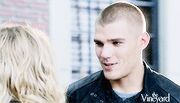 The two have grown very close in the last episode, though some people think he just went on a date with her to get an interview, he might have developed real feelings.