The Photo 
is a photograph of 
Jo
, 
Lacey
, and 
Danny
 sitting together on a tree branch. It was taken by 
Vikram Desai
.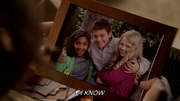 Jo, Danny, and Lacey were all given a copy and since
Karen
liked memoirs Vikram saved another one to keep in their home. While in juvie, Danny brought his copy of the photo with him. On his last day while he was packing to go home he couldn't find it, and left without it. Karen let him have the family's copy in his bedroom.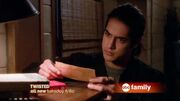 Once his insane cellmate 
Charlie McBride
 followed him to Green Grove, Danny discovered the truth that Charlie had stolen the picture of him and the girls and had become obsessive with Danny's life and even tried romancing Lacey - and succeeded in romancing Jo.
Ad blocker interference detected!
Wikia is a free-to-use site that makes money from advertising. We have a modified experience for viewers using ad blockers

Wikia is not accessible if you've made further modifications. Remove the custom ad blocker rule(s) and the page will load as expected.